Meet Our Dentist
Dr. Raja Sandhu — BDS, DMD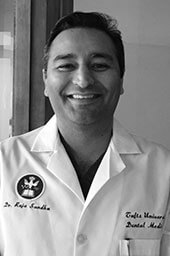 Received his Bachelors of Dental Surgery Degree after completing five years of dental training at Punjabi University in India. In 2004 Dr. Sandhu graduated from Boston's Tufts University with a Doctorate of Dental Medicine.
In 2007 Dr. Sandhu received his certification in Laser Dentistry. He is very impressed with the efficiency and comfort laser technology provides his patients. Dr. Sandhu also provides Sedation Dentistry to his patients who feel nervous about their dental appointments.
Providing this service is a great benefit for his patients so that they can continue to maintain their oral health and feel comfortable and at ease throughout the entire procedure. Providing Implant Dentistry within our practice will eliminate the need for referrals to the city.
Dr. Sandhu is proud to received mastership from American Dental Implant Association.
Completed Mini Implant Residency with Dr. Lin, associate professor with University of Toronto.
Dr. Arash Shafiei
Dr. Arash Shafiei has received his Doctor of Dental Surgery degree from Western University. After completing his BASc degree in Chemical Engineering at Univeristy of Toronto, Dr. Shafiei decided to set out on a journey across europe to follow his childhood dream of becoming a dentist. Dr. Shafiei has completed a 5 year Doctor of Dental Medicine at Semelweis University in Budapest, Hungary before returning to Canada to attend Western University. Dr. Shafiei has completed an Oral Moderate Sedation course at Western University. His fields of interest include restorative dentistry , dentistry under sedation and oral Surgery. Dr. Shafiei is currently residing in the Brockville area with his wife.
Dr. Virk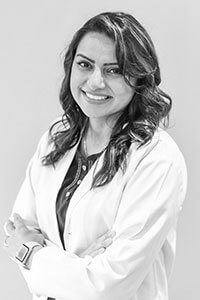 Dr Virk is a graduate from Government Dental College Amritsar, India with degree in Bachelor of Dental Surgery (BDS). She worked in private practice and volunteered at various rural dental camps before migrating to Canada where she successfully completed her NDEB graduation. She has received distinction during her graduation in various subjects. She strongly believes in upgrading her skills and giving enhanced dental care to her patients. Her keen learning instinct and tireless pursuit of dental excellence led her do further certifications in Oral Sedation, Endodontics, Oral Surgery, Crown & bridge preparation, Invisalign. She enjoys all the aspects of dentistry and loves interacting with patients. She is currently residing in Ottawa and enjoy exploring new places and spending time with family.
Dentistry @ Prescott
555 King St W, Prescott, ON K0E 1T0
Phone: 613-925-2887